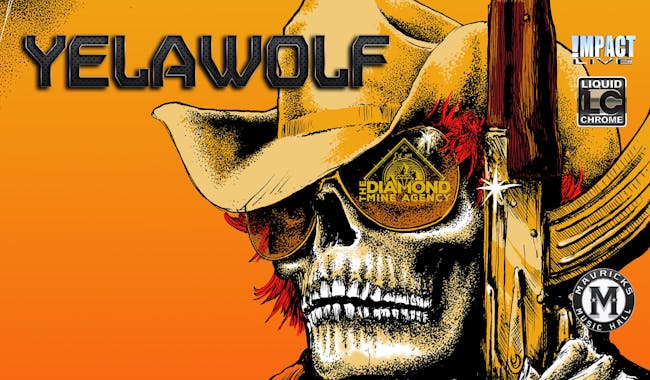 Presented By Diamond Mine, Liquid Chrome & Impact Live!
YELAWOLF Ghetto Cowboy Tour
Mavricks Music Hall
Barrie
,
ON
YELAWOLF Ghetto Country Tour Tickets Are EN ROUTE To SELLING OUT! Don't Wait - Purchase NOW To Avoid Disappointment!
The Diamond Agency, Liquid Chrome & Impact Live proudly present YELAWOLF Ghetto Cowboy Tour 2019 Saturday November 9/19.
TICKETS for $39.99+HST are now very limited available ONLINE or in person at the following OUTLET locations:
LIQUID CHROME
SUNRISE RECORDS
PITA PIT Bayfield St.
PITA PIT Dunlop St.
YELAWOLF is an underground rapper from a small town in the South who found major-label success in 2011. Born Michael Wayne Atha on December 30, 1979, in Gadsden, Alabama, he made his full-length album debut with the independent release Creekwater (2005). He subsequently made the jump to Sony BMG for the release of a promotional single, "Kickin'" (2007). Disillusioned with life on a major label, he returned to the underground rap scene. Newly inspired, he worked to build an audience for himself via MySpace and mixtapes. In 2010, an appearance on Bizarre's album Friday Night at St Andrews became an early sign that the rapper was aligning himself with Eminem's Shady label and its family of artists. His signing to the label was announced in 2011, and by the end of the year his official debut, Radioactive, had landed. Guest shots came from Eminem, Kid Rock, Lil Jon, and Gangsta Boo, while names like Diplo, Jim Jonsin, and the J.U.S.T.I.C.E. League handled production. A year later he partnered with blink-182 drummer Travis Barker for the rap-rock EP Psycho White.

Venue Information:
Mavricks Music Hall
46 Dunlop St. West
Barrie, ON, L4N 1A4