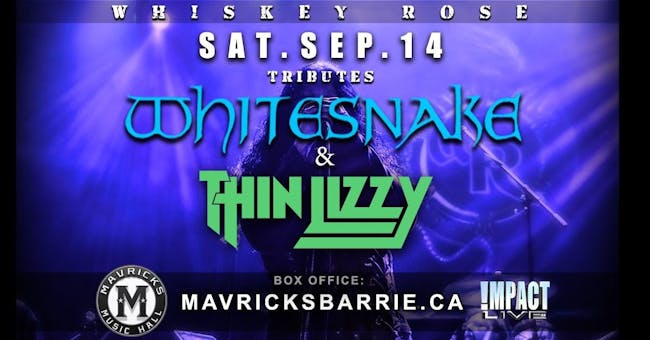 WHISKEY ROSE
A Rebel Few
Mavricks Music Hall
Barrie
,
ON
$14.13 - $16.95
Sales Ended
TONIGHT Whiskey Rose Presents The Best of THIN LIZZY & WHITESNAKE w/ Special Guests REBEL FEW Live @ Mavricks Music Hall!
TICKETS from only $12.50+HST (4-Pak) available online until 7pm ,and also in person at the below OUTLETS until 4pm:
SUNRISE RECORDS (Bayfield Mall)
LIQUID CHROME (Downtown Barrie 5 Pts)
Plenty of $20 Tickets will be available @ Mavricks Doors 8pm
WHISKEY ROSE is a five piece band delivering high-energy, note-for-note renditions of some of the best rock on the planet. These boys hit the stage with explosive dual guitar harmonies, hard hitting rhythms, Celtic phrasing and mystic ballads!
A REBEL FEW took all the shit they DONT like about music and ignored it & then took all the things they DO like about music & they do THAT!
"This is a killer rock show you don't want to miss"
CLICK HERE to visit the official event page on ImpactLive.ca proudly supporting live music in Central Ontario since 1985
Venue Information:
Mavricks Music Hall
46 Dunlop St. West
Barrie, ON, L4N 1A4