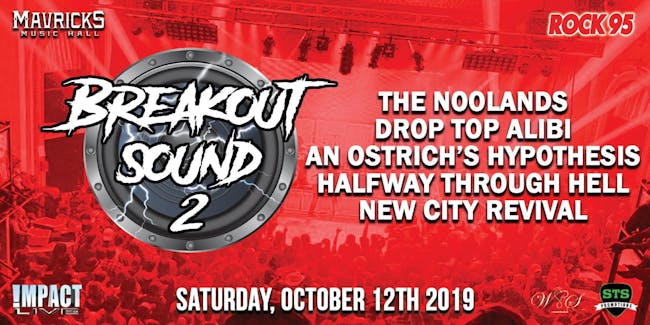 Presented By Rock 95, StS, We Love Sound & Impact Live!
The Noolands
Drop Top Alibi, Halfway Through Hell, An Ostrich's Hypothesis, New City Revival
Mavricks Music Hall
Barrie
,
ON
TONIGHT - Rock 95 BREAKOUT SOUND 2 Thanksgiving Concert Party In Support Of Central Ontario's INDIE Emerging Artists!
TONIGHT - Rock 95's BREAKOUT SOUND 2 Thanksgiving Indie Concert Party at Mavricks w/ The Noolands, Drop Top Alibi, An Ostrich's Hypothesis, Halfway Through Hell & New City Revival brought to you by StS Promotions, We Love Sound & Impact Live!
BREAKOUT SOUND Indie Artist Concert Series provides local bands the opportunity to showcase their music to a larger audience - not only by performing on a bigger stage at Mavricks, but by gaining radio exposure and opening the door to support big-name recording artists on future IMPACT LIVE produced shows!
TICKETS: $10 advance (all-in) available ONLINE and in person at Sunrise Records (Bayfield Mall) & Liquid Chrome (Barrie 5 Pts.)
CLICK Here To Submit Your Band For Breakout Sound Events!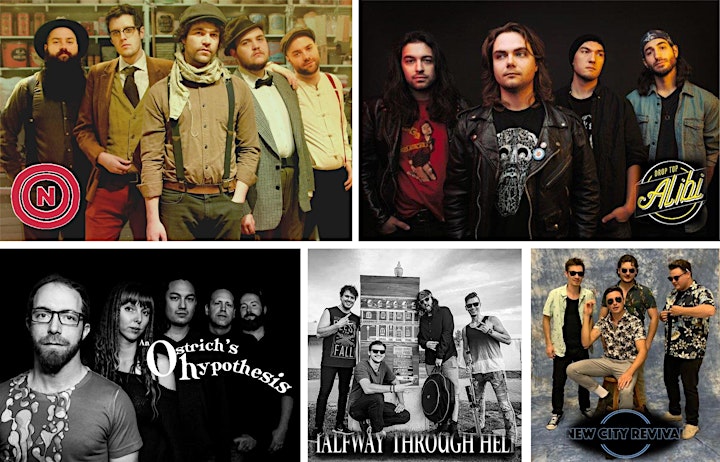 THE NOOLANDS - A group of friends, making music for their best friends! This Barrie-based quintet has been blurring the lines between rock n roll and blues, funk and pop, indie and alternative for over five years. They have built an impressive resume of shows, releases, and a reputation from bringing a live show that is danceable and fun! Their latest release 'Us on a Bus" had two charting singles on FM and Satellite radio, and received acclaim locally and abroad. Do you wanna get 'Loosey Goosey'? Put on your 'High School T-Shirt' and come check out one of the best bands Barrie has to offer!
DROP TOP ALIBI - By Blending the 70's and 90's using soaring vocals, pounding guitar riffs, and punishing drums, Drop Top Alibi has created a timeless Rock n Roll experience seldom seen in the modern rock climate! Formed in Toronto in 2016, DTA have played shows all over Ontario, won 97.7 HTZ FM's Rock Search in 2019, recorded with legendary musicians Gilby Clarke (Guns n' Roses, Rock Star Supernova) and five-time Juno award winning producer Michael Hanson of Glass Tiger, and made a name for themselves as one of the highest energy up-and-coming bands around!
AN OSTRICH'S HYPOTHESIS is based in Innisfil, Ontario and comprised of four like-minded individuals with eclectic tastes and one guy who listens to a lot of drone music. Combining a good dose of rock with a certain funky swagger, they've been bringing their own brand of trip-folk weirdness to Southern Ontario for the past three years.
HALFWAY THROUGH HELL - Four piece metalcore band hailing from Wasaga Beach, HTH have quickly risen through the local music scene with their heavy breakdowns, shredding guitar solos, & melodic vocals. These young musicians show an impressive musical range, combining the best aspects of metal, alternative, hardcore, & rock n roll!
NEW CITY REVIVAL - Pop-punk/alternative quartet from Barrie,ON. A relatively new band to the scene, NCR has been working hard to hone their sound and play shows all over the area. Check out their new music and see what all the fuss is about!
CLICK HERE to visit the official event page on ImpactLive.ca proudly supporting live music in Central Ontario since 1985

Venue Information:
Mavricks Music Hall
46 Dunlop St. West

Barrie, ON, L4N 1A4