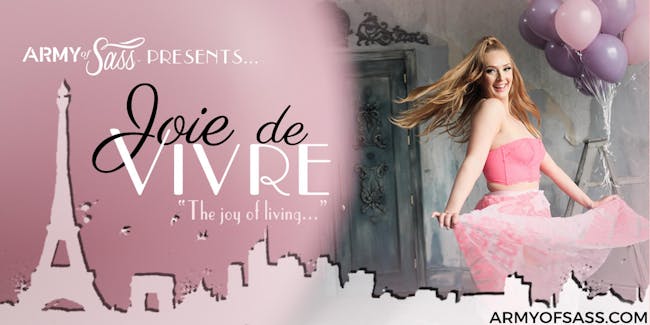 Presented By ARMY OF SASS
Joie De Vivre (10pm Show)
Mavricks Music Hall
Barrie
,
ON
$33.23 - $44.82
Sales Ended
ARMY of SASS™ invades Mavricks Music Hall Saturday November 30th: Tickets for the 10pm show are available here (Doors 9:15pm)
JOIE DE VIVRE tells the story of a woman finding joy in life. We cover love, sex, heartbreak & happiness - This is one you won't want to miss!
TICKETS from $25+HST are available until 5:00pm online, and $35 all-in @ Mavricks doors opening 6:15pm.
There will be 2 Shows Saturday Nov.30th (an earlier & later show):
7pm-8:30pm Show (Doors Open 6:15pm)
If you wish to attend the early show CLICK HERE
10pm-11:30pm Show (Doors Open 9:15pm)
If you wish to attend the late show buy tickets here
ARMY of SASS Performance & Training Group is a HEELS based dance program in Canada for women of all levels from beginner to professional. It is a chance to gain confidence and strength while working on improving dance skills in the sexy and sassy HEELS style.

After working for weeks, the women of the ARMY of SASS have the chance to show off their hard work in the larger than life term end performance! Each individual show is held at an amazing local venue in front of hundreds of people, including industry professionals!

Venue Information:
Mavricks Music Hall
46 Dunlop St. West
Barrie, ON, L4N 1A4